Immigration advice | applications | appeals

Our Services:
free assessments
general advice
full legal representation
application preparation/ checking service
visa applications
appeals
administrative review

Welcome

Direct Immigration Solutions is a specialist immigration legal practice in the United Kingdom. The proprietor is Steve Lee, who is a fully qualified immigration lawyer with over 17 years of experience providing immigration legal advice and representation in Norfolk.
Areas of expertise include all aspects of the United Kingdom's immigration rules and laws,
BREXIT,
European (EEA) regulations, UK visas and British nationality & citizenship. The practice has considerable experience in dealing with spouses, partners and children under Appendix FM to the immigration rules, EU Settled Status & Pre-Settled Status, and applications for naturalisation as British citizens.
The Grade II listed office premises at Willow Lane House are situated in the city centre of Norwich, Norfolk. Meetings in person are not essential; the practice frequently helps clients on a nationwide and international basis. If you require assistance outside of normal office hours then please e-mail or complete the 'quick response form' on our Contact page and you shall be contacted as soon as possible. The office telephone number during normal office hours is: 01603 666 661.
What you can expect from us
All clients receive a highly personalised service, whether it is one-off advice or an ongoing case. Advice is always confirmed in writing, and regular updates are provided. All enquiries are answered promptly.
Good quality legal help and advice does not need to be expensive. Our fees are very reasonable, and they are fixed in advance so you will always know the exact cost of our help.
The option of virtual meetings is available if you are unable to come and see us in person. These can be conducted via Skype, e-mail or telephone.
Our qualifications
Direct Immigration Solutions is approved and regulated by the Office of the Immigration Services Commissioner at Level 3 - the highest level - so you can be assured that you are dealing with a reputable firm with high standards.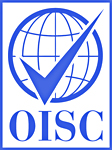 Regulated to provide immigration advice or services by the OISC (registration No. F201600077).